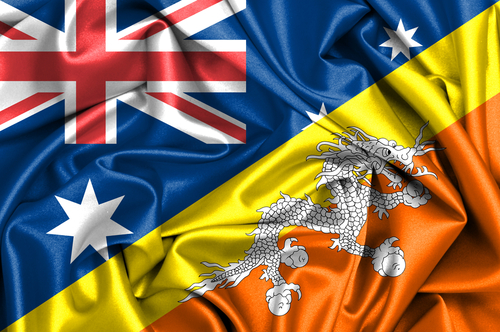 Australian Government established formal diplomatic ties with Royal Government of Bhutan in 2002. Since the establishment, Australia has been a major socio economic development partner for Bhutan. Australia's development assistance focuses in Bhutan's education sector through development of human resource, providing assistance to strengthen the local institutional capacity and its assistance through the World Food Program has empowered the Royal Government of Bhutan to provide daily meals to school children improving enrollment.
Through the Australia Awards initiative, Australia provides scholarships to Bhutanese students, researchers and professionals to study in Australia. Since 2007, the program has awarded scholarships to 520 Bhutanese students. This aid program aims to develop capacity and leadership skills of the Bhutanese and also foster people to people linkages between Bhutan and Australia.
Through the Australian Volunteers for International Development (AVID), Australian professionals in the health, education, forestry and agricultural sector volunteer to work in Bhutan for a period of one to two years. The program aims to improve public health service delivery and also drive the exchange of technical know-how and in the education sector, it focuses on delivering high quality education to the children with special needs. New areas of focus such as entrepreneurial development in the private sectors are being explored. Australia has also assisted The Royal Institute of Management in establishing post graduate courses in public and business administration.
To recognize Australia's invaluable assistance to Bhutan and to celebrate 15 years of diplomatic ties, The Royal Government of Bhutan has launched the Bhutan-Australian Friendship offer. Through the Bhutan-Australian Friendship offer, all Australian nationals visiting Bhutan in 2018 will be entitled to special travel promotion. Learn more about the offer or check out out special tour package for Australians visiting Bhutan.