Amazing Agency

My decision to go to Bhutan was last minute, but Sonam did a great job organizing my trip in lightning fast time. He always made sure to give me a break down of the costs and was contactable nearly 24/7, for any questions I had.
My guide, Karma and driver, Nema, were great guys. They were really professional and diligent. Although I have no experience of using other agency in Bhutan, I would strongly recommend using BookMyTour as I could find no complaints with their service.
The hotels and homestay were really nice, and the guides brought me to a few western style restaurants/bars to add a bit of variety, although I had no complaints with the Bhutanese food.
Beautiful country and great people.
Originally posted at https://www.tripadvisor.com/ShowUserReviews-g293845-d15672505-r674848857-Book_My_Tour-Thimphu_Thimphu_District.html
Gerard Mooney
Dublin, Ireland
Simply amazing trip to Bhutan!!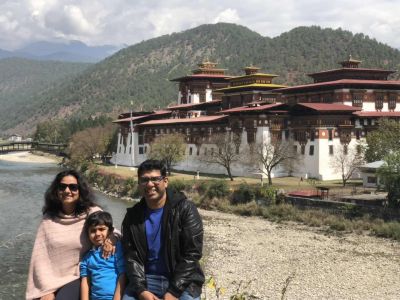 Traveled to Bhutan with my wife and eight year old kid this April through BookMyTour. From the onset, they were very professional and transparent with everything. Throughout the booking process, they were ready with answers for whatever queries we had and it was a pleasure to interact with them.
We visited three places - Thimpu, Punakha and Paro. Karma Tenzing as the guide and Sonam as the driver made awesome trip companions as they went out of their way to make us feel comfortable and altered plans as per our convenience. Not only did they take good care of our naughty son, they also are a storehouse of knowledge and kept making us understand the Bhutanese culture and customs. Bhutan tourism industry is non commercial and that's the best part about it. We sincerely hope it stays that way. The hotel staff and everyone go out of their way to deliver service and we think that the tourists also need to respect that and appreciate what they can instead of ranting about what they can't. Thank you to Sonam Dorji, Karma Tenzing and Sonam for all that they did for us. It was a trip we'll remember for a long long time.
Kartik & Kavitha
Dubai, United Arab Emirates
Wonderful trip!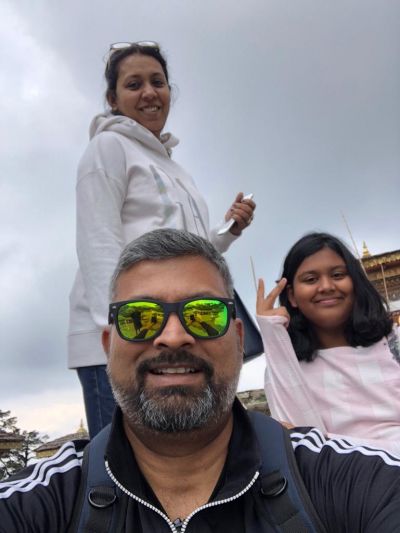 My family and I have just returned from a short and sweet trip. We had a wonderful time in Bhutan and the entire trip was organized very well. In fact there was some issue with the size of the car that we booked but the agency / Sonam solved it immediately and we were on our way. The guide selected was also great and was patient with the fact that we were traveling with a child.
The arrangements, the choice of restaurants and the complete trip was very well organized.
Deblina
Dubai, United Arab Emirates
No hesitation in recommending Sonam's services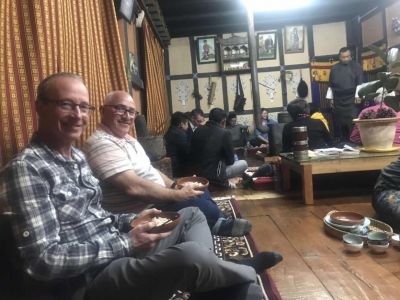 Just returned from a short trip (5 nights) in Bhutan arranged by Sonam Dorji of the tour company "Book My Tour & Travel". We had a bit of a setback on our first day - our itinerary was interrupted because Chele La pass was impassable due to a snowfall and we had to turn back. This resulted in spending most of the day driving the long way round to the Haa Valley. However, to their credit, our guide Karma and our driver Kinley, made sure we were not short-changed, managing to pack the rest of our time in Bhutan with many varied activities. They were also flexible enough to make some changes to our agreed itinerary as we wanted to reduce the amount of driving. Our itinerary was as follows:
Day 1: Arrive Paro transfer to Haa, overnight in a farm stay
Day 2: Drive Haa to Thimpu, overnight in Thimpu
Day 3: Drive to Punakha, overnight in Punakha
Day 4: Drive to Paro, two nights in Paro
Day 5: Tiger's Nest hike
Day 6: depart
I haven't listed all the activities as we did so much! Suffice to say our days always started early and finished fairly late so that we could do all we wanted to do .
I have no hesitation in recommending Sonam's services - he was extremely quick at responding to initial enquiries and this speed of response continued throughout our trip planning.
Originally posted at https://www.lonelyplanet.com/thorntree/forums/asia-indian-subcontinent/bhutan/tour-company-book-my-tour-travel
Graham
UK, United Kingdom
Trip to Bhutan was amazing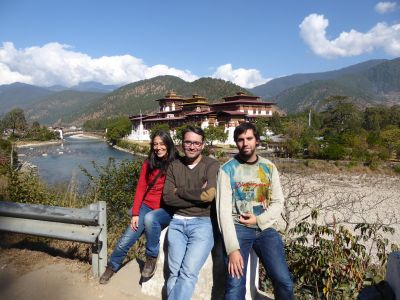 My trip to Bhutan with Book My Tour was amazing!
Sonam always answered all my questions and made a program according to my wishes.
Our guide, Kinley and our driver, Dorji were just great! They were so kind, helpful and always trying to make us happy and having a great experience is the lovely Bhutan!
I'll visit Bhutan again and for sure I'll go with Book my Tour!
Thanks for showing us Bhutan treasures and life!
Maria Gabriel
Porto, Portugal
Epic Journey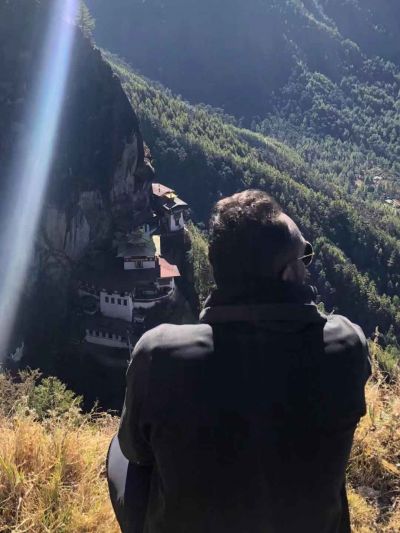 - Bhutan - The Last Shangri La
It gives me great pleasure to write this review. I feel I was eally lucky that I came across Book My Tour and from the very beginning till the very end it's been a wonderful experience working with them.
It all started over a quick email conversation with Sonam and his quick responsive emails got the trip going for us and we were all ready in a week time for the trip. To getting the trip sorted and also adding customizations needed as per our travel needs -everything was taken care off and suggestions and recommendation were given too. Efforts were made to get the trip worked out.
We were happy to meet our guide Karma Tenzing and our driver Ngwang Dorji who showed their country to us in such a beautiful way and also I am highly obliged to them for the way they took care of my parents who are 60+ years of age. Thanks, Karma and Dorji - the two most amazing people came across during my travel in Bhutan
Our travel was very well planned to local places recommended to us for eating and the amount of insight given to us by Karma on every place we visited and also kept the fact we all get a very local way of life in Bhutan. The best was our hike to tiger's nest which we started very early - Kudos to Karma and Dorji for planning and making it work out.
All in all, I can say it's been a pleasure getting trip planned through Book My Tour and above all getting to know this country through the eyes of lovely people.
My parents and we all i feel walked back home with so many beautiful memories. Couldn't ask for more. Look forward to traveling with you people again down the road.
Kadrinchey La
Naman Jain
Travel to Discover
Well arranged tour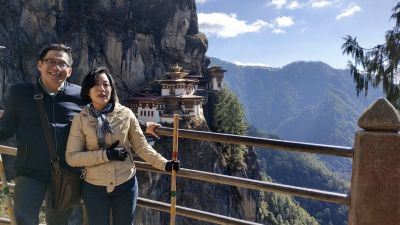 We proceed our Bhutan tour on Nov.30,2018 after we finished the buddha pilgrimage tour in India-Nepal.
We start our trip from Kolkota-Paro vv by DrukAir, all are arranged well by Sonam Dorjie and felt fun and grateful with his team Karma Tenzin during our stay, especially on the trek to Thaktsang Palphug Monastery. Thanks a lot all and be blessed for always by Guru Padmasambhava 🙏😍🙏
Yoe Yoe
Pekanbaru-Riau, Indonesia
Reaching New Heights

After spending the summer working in Myanmar and traveling around Southeast Asia, I chose to visit the cool mountains of Bhutan with my friend. Throughout the planning process, Sonam created a comfortable interaction. He was extremely helpful, knowledgeable, and adaptable. His adaptability came in handy when we were at risk of losing a day in Bhutan due to travel delays in Myanmar and Thailand. Thanks to his efforts, we were able to arrive in Bhutan with smiles a couple of hours late.
From the moment we arrived to wheels up departing Bhutan, my friend and I enjoyed every aspect of Bhutan. Everywhere you looked the scenery was picturesque, accommodations were comfortable, and the people were friendly. Our guide, Karma, and driver, Kinley, helped to make our experience unforgettable. They were flexible to our needs and thoroughly answered the many questions I had. The trip was truly an adventure to remember, so much so that I am eagerly brainstorming ways to return for an extended period.
Adam S.
Washington, United States
Finally made it to the land of happiness

Back from a week long trip to Bhutan and happy to write this review.
The recommendation of Book My tour came from a close friend who traveled to Bhutan last year, she had very good things to say about it. So I emailed Sonam about a solo trip to Bhutan and was quite amazed how quickly he responded to my queries and the various recommendations he gave. Over a few email exchanges we decided on my travel itinerary and paid the full cost of the trip, have to say was a little anxious paying everything upfront. Anyway, two weeks later was on a Drukair flight to Bhutan.
At Paro airport, I was greeted by my guide Tashi and driver Tshering whose company I really really enjoyed. They were very friendly and super helpful. Tashi was very knowledgeable about his country and I learned quite a lot of things about Bhutan from him. Visited Paro, Thimphu, Punakha and Phubjikha in that 8 days. It was the monsoon season in Bhutan and it was raining 5 out of those 8 days :(. In hindsight, should have travelled before the rainy season.
My accommodation was booked in standard hotels, nothing fancy, although I got a complimentary room upgrade at Gantey palace. Stayed one night in a farm house in Punakha, one should definitely try it.
Things that I liked:
- Phobjikha, the place is breathtakingly beautiful
- Hike to Paro Taksang monastery
- Farmhouse in Punakha
Things I didn't like so much:
- The rain!!
- Dogs barking in the middle of the night in Thimphu
Overall, it was a great experience. Thank you Tashi, Tshering and Sonam for your service and help.
Will be recommending Book My Tour to friends and family.
Timothy Goh
Singapore, Singapore
A short visit to Bhutan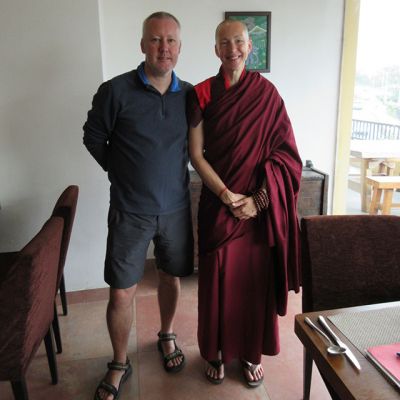 I re-entered India from Bhutan a week ago after a last-minute 4-day trip. As I was in Dhaka & heading to the mountains I decided to check out the possibility of a trip to Bhutan. Wanting to use a local travel agent I found a very positive write-up on the Thorn Tree about a trip arranged by Sonam Dorje (Book My Tour)
Within half an hour, Sonam had responded to me & after swapping a few emails we had come up with an itinerary:
My first contact with Sonam was on Saturday afternoon. I booked my own flight the same day for the following Friday, having agreed on an itinerary with Sonam, transferred the fee on Sunday & had my visa by the end of Monday. Everything was sorted within 72 hours. This may not always be possible, but it shows that such trips can be arranged at very short notice from neighbouring countries.
I highly recommend Sonam, Sonam, Dorje. If you are thinking about visiting Bhutan, please, go local to keep the money in country & I cannot recommend BookMyTour highly enough for their efficiency, openness, flexibility, knowledge, guiding skills, driving skills etc. etc. etc.
This review was originally posted on Lonely Planet, read more at: https://www.lonelyplanet.com/thorntree/forums/asia-indian-subcontinent/bhutan/a-short-visit-to-bhutan-june-2018
John Benson
Liverpool, United Kingdom