Buying souvenirs can be challenging especially with the boom of trade between countries; it can prove tricky to choose an authentic handicraft to take home as souvenir amidst a plethora of imported goods. Bhutan has a small craft industry run by creators who have learned the art from their ancestors. Bhutan offers a wide variety of crafts from natural dyed-fabrics, intricate textiles, to appliqué based paintings and unique postal stamps. With a large variety of crafts offered in Bhutanese markets, one can easily get overwhelmed! We hope this article will help you pick amongst the top authentic Bhutanese souvenirs to take home while providing information about the type of souvenirs, its cost range and where to find it.
1. Bhutanese Wooden Carved Masks

Wooden carved masks are perfect souvenirs for someone who appreciates detailed traditional art. These masks are an integral part of Bhutan's culture and tradition; monks wear them during festivals while performing mask dances.
The process of making these mask are quite complex too, the wood of native pine with right texture needs to be dried for several months before an elaborate carving work follows. These masks are then hand carved, brightly painted and decorated with colorful silk and brocades.
These masks can make a great home décor item both for traditional look or to amalgamate it with western interior style.
Prices start at 50USD (Prices are subject to change)
Best place to find them: Authentic craft Bazaar, Zorig Chusum, Thimphu.
2. Bhutanese Thangka Paintings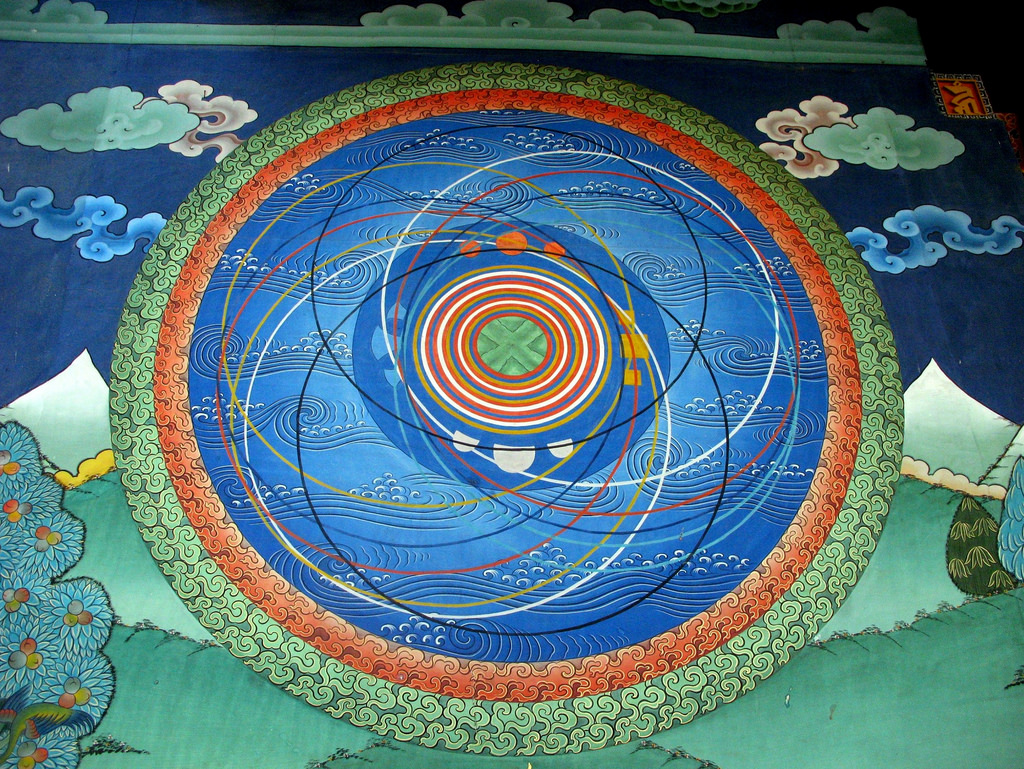 Bhutan is an art-lover's paradise where a wide variety of traditional artworks called Thangkas can be found. Thangkas are an important aspect of religious culture in Bhutan and are generally drawn on cotton or silk appliqué. Thangka paintings are a representation of Buddhist teachings and Buddha's doctrines. Unlike other artworks around the world, Thangkas are painted using natural mineral colors rather than synthetic colors. Some of the most popular Thangka paintings are of Mandalas. Mandalas are a circular representation of the Buddhist structure of a universe. Thangka paintings are great souvenirs for tourists who love to collect artworks or for someone just simply looking for a unique art piece to decorate their living room.
Prices start at 100USD. (Prices are subject to change)
Best places to find them: Authentic craft Bazaar and Zorig Chusum, Thimphu.
3. Bhutanese Yathra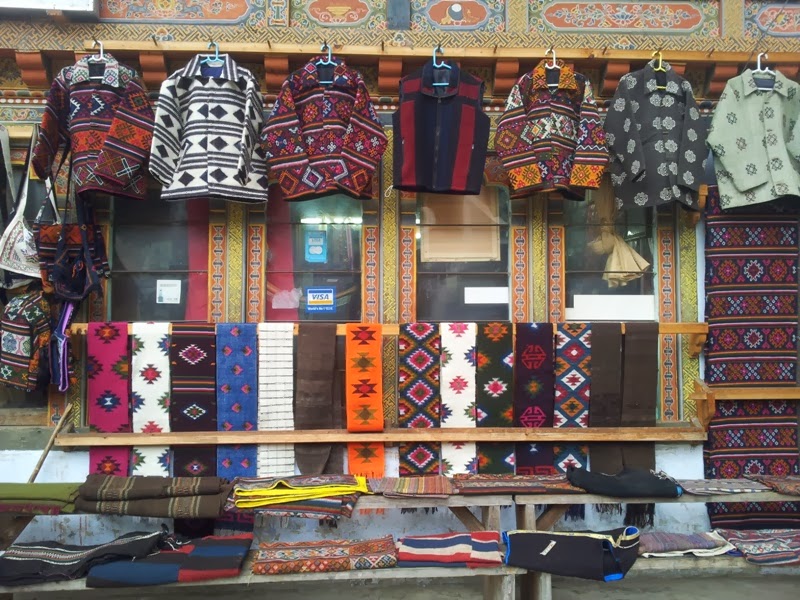 Intricate patterns and vibrant colors make up a Yathra. Yathra is a woven woolen cloth material native to Chumey valley in Bumthang.  Traditional hand looms are used to produce these textiles. Women in this valley weave their day away. Yak wool and sheep wool are dyed in natural colors and dried to weave it into a beautiful Yathra. These Yathras are then fashioned into stylish coats and bags that make good souvenirs for fashionistas. They are also turned into rugs, wall hangings, table runners; cushion covers are great for those interested in home décor gifts.
Prices start at as low as 20USD. (Prices are subject to change)
Best places to find them: Authentic craft Bazaar and Zorig Chusum, Gagyel weaving center, Thimphu.
4. Lungta Prayer Flags
When visiting Bhutan you may notice colorful flags fluttering around the country. These are called Lungta prayer flags. Prayer flags decorate the mountains and hills of Bhutan. A prayer flag is a colorful rectangular cloth, often found strung along mountain ridges. Prayer flags are a means to spread the blessings. It is said that the wind will carry the blessings of the prayer flags and bless anyone whom it comes in contact with. People hoist the prayer flags up in the hills and on bridges where the wind is said to be the strongest. The prayer flags are printed manually using a woodblock that imprints texts and images on a cotton cloth material. Traditionally these prayer flags come in five colors. Prayer flags have become one of the most procured souvenirs by tourists mainly due to its significant and inexpensive nature. They can be strung by a window where the wind will flutter them and spread blessings.
Prices start at as low as 5USD. (Prices are subject to change)
Best place to find them: Any handicraft shop will have it.
5. Bhutanese Hand Made Paper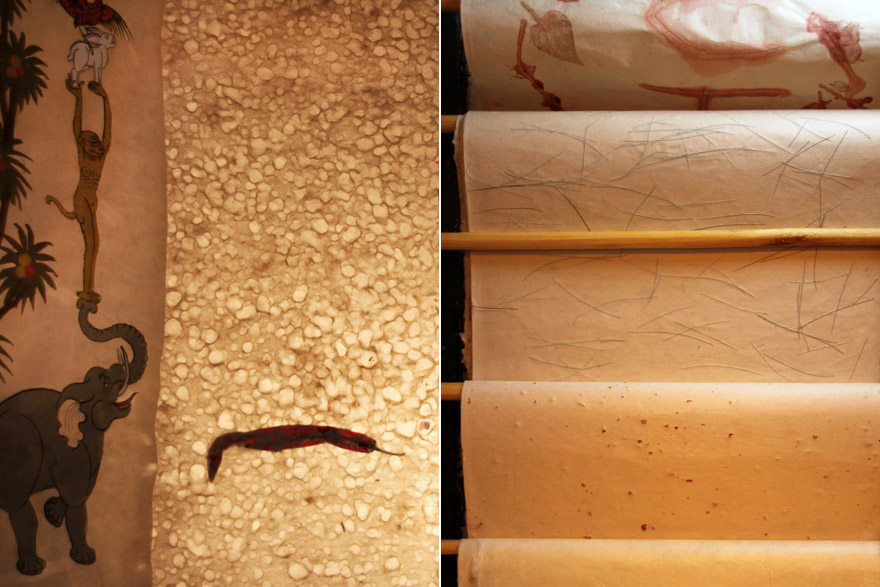 This is another uniquely Bhutanese souvenir to take home to a loved one.
Locally produced handmade paper is a distinct pride of Bhutanese crafts. The ministry of trade and industry established Jungshi Paper Factory in Bhutan's capital, Thimphu to re-emphasize the relevance of this ancient art in the modern world. The paper is made from the bark of Daphne tree that is found at altitudes over 3000 meters, texture is added to these papers with flowers, leaves and dried red chilies.
In addition to buying the papers, tourists can also get a tour of the paper factory where one can learn how the locals make these beautiful papers.
Prices start at 5USD per sheet. (Prices are subject to change)
Best places to find them: Jungshi Paper Factory, but can be found at other handicraft outlets, Thimphu.
6. Bhutan Postal stamps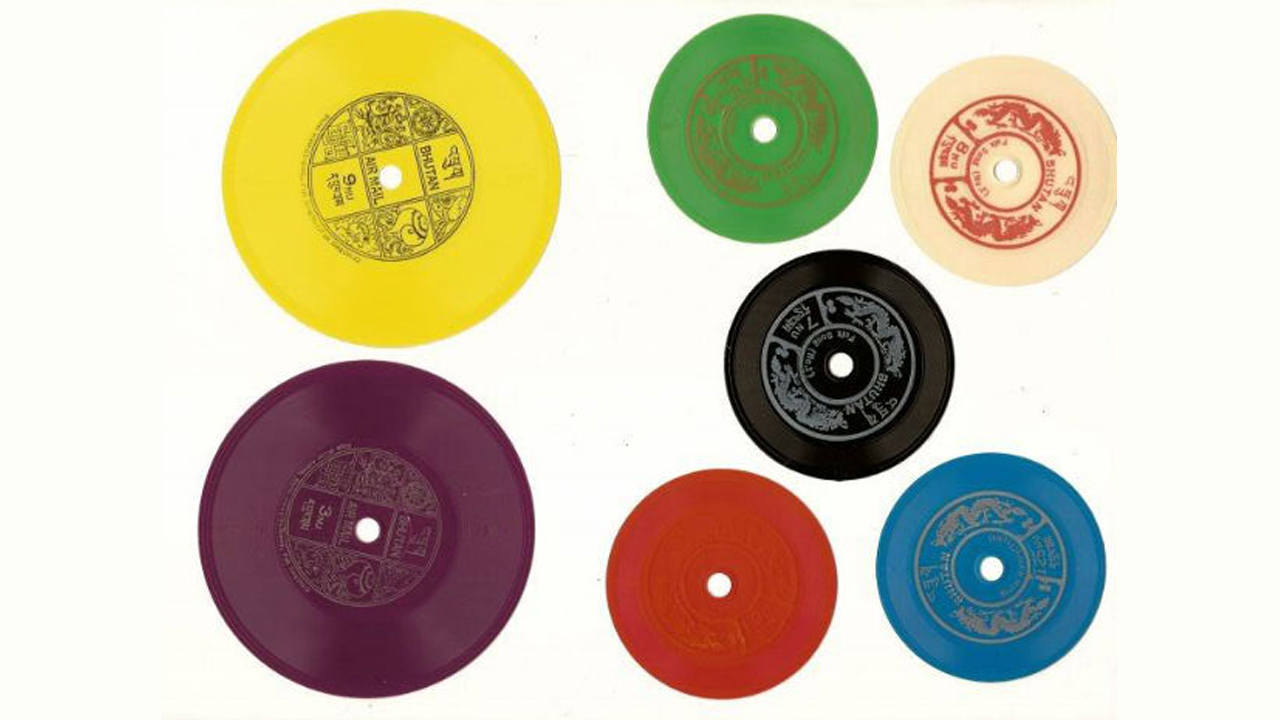 Bhutan is truly a philatelist's paradise as Bhutan offers an extensive collection of postal stamps. Bhutan Post Office is recognized for its exclusively unusual and unique postal stamps. Stamps of all shapes, sizes, and characteristics are issued here. Some of the unusual stamps include; 3D stamps on various themes like mask dances, butterflies of Bhutan, and birds of Bhutan, CD Stamps that can actually be played using a CD player which plays Bhutanese songs and Gramophone record stamps which plays various sounds when put into a gramophone are also presented. Bhutanese musical instrument stamps where a person can scan the QR code on their mobile device and listen to Bhutan's national anthem and various other Bhutanese songs are some brands the Bhutan post-manufactures. The Bhutan Postal Museum located at the Bhutan Post Office offers insightful information on the history of Post in Bhutan. Visitors can purchase the stamps or they can choose to print their photos on the stamps and get personalized stamps as souvenirs.
Prices for stamps issued: start from as low as 50 cents. (Prices are subject to change)
The prices for personalized stamps start from 6USD. (Prices are subject to change)
Best place to find them: Bhutan Postal Museum, Thimphu.