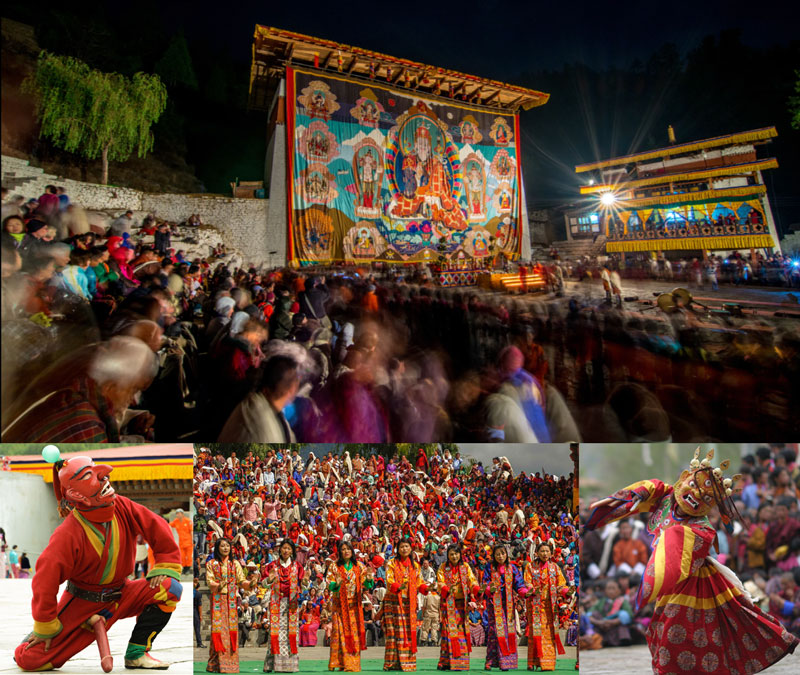 Tsechu is an annual religious festival celebrated across the country in honor of Guru Padmasambhava, a saint who introduced Buddhism to Bhutan. In the event, the monks perform a series of meticulously choreographed religion inspired dances. The monks perform the dance wearing spectacular colorful silk costumes and exquisitely crafted mask. Tsechu is a sacred event and locals believe that attending a Tsechu confers blessing and spiritual protection.
Tsechus are organized in the courtyard within or around the great Dzongs (fortress). Lasting for several days, Tsechus attract great number of locals and tourists to witness the event. It is a social tradition for locals to dress themselves in their best traditional outfit and cook sumptuous food for the event. While there are many Tsechus celebrated throughout the year across Bhutan, Paro Tsechu and Thimphu Tsechu are the most popular Tsechus in terms of social gathering and participants.
The unfurling of a huge applique scroll painting (thangka) representing the Guru Rinpoche and his eight manifestations before the break of dawn marks the final day of the Tsechu. Crowd gathers early in the morning at the site and witness the unfurled thangka to receive blessings and offer prayers. At sunrise the thangka is withdrawn from public exhibition and will not be displayed for another year.
Upcoming Tsechu Dates:
Paro Tsechu – March 27th – March 31st 2018
Thimphu Tsechu – September 19th – September 21st 2018
Check other festival dates for 2018
Things to know while planning a trip to Bhutan during the Festival period
Book your trip in advance. Bhutan receives maximum number of tourists during the Paro and Thimphu Tsechu period. Getting a last minute flight ticket and hotel room is almost impossible. All tour operators confirm travel arrangements at least three to six months prior to the festive period.
Most hotels and airlines hike up their rates during the Tsechu period.
Paro and Thimphu Tsechu period falls during the peak travelling season. Therefore tourists will be charged a minimum daily tariff of USD 250 per person per night. If you are on a tight budget, consider visiting Bhutan during the lean season. There are other similar festivals organized during the lean season and you can travel cheap. Read our article on why you should consider traveling to Bhutan during the lean season
Travelers can plan an itinerary that includes cultural and adventure tours built around the festival to maximize their visit to Bhutan.